Toronto's Only Subscription Service for Great Kids Bikes
GroBikes supplies quality, lightweight, fun bikes for kids aged 3 - 10 that parents can upsize whenever their child grows.
We make it easy to keep your kids riding great bikes that "grow" while they do.
Subscribe online and get your bike(s) delivered, or pick them up at our shop.
We take care of maintenance so you can relax while they ride, and ride, and ride...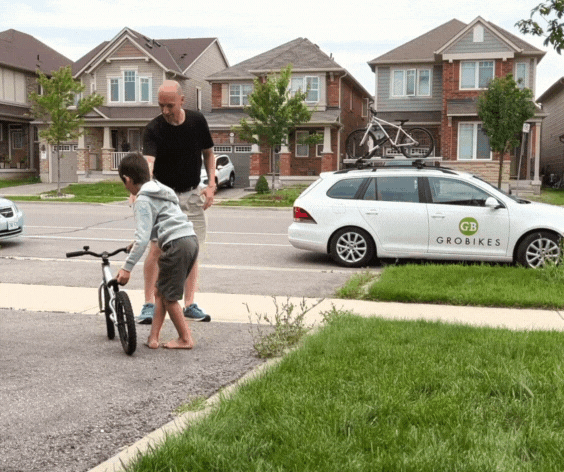 No more bike shopping and re-selling. When they've outgrown their bike, just exchange it for the next size up. Easy peasy.
Join our mail list and be the first to hear about news and offers!
Uniform Bike Design Makes Upsizing Easy
Our bikes are all the same colour and style so the only decision you need to make is when to get a bigger one.
We Worry About Maintenance So You Don't Have To
If something isn't working right, our skilled mechanics will fix it, keeping you calm and your child riding on.
No More Storing & Selling Old Bikes
Owning leaves parents with garages cluttered with old bikes waiting to be sold. GroBikes leaves you with nothing but a bigger bike, spare time, and a smile.
Light Bikes Grow Confidence
Lightweight bikes that fit right are easier to learn on, climb hills faster, and win more races. Subscribe to GroBikes and grow your child's confidence, as well as a strong heart and legs.
GroBikes is carbon neutral and reduces material waste by over 50%, making us better for kids now, and for all of us in the future.
"Hi! My son Zaki rode all evening and thoroughly enjoys his new bike!
I love everything about your business and this service, I love the bike, the quality, the light weight of it, the affordability.
I also truly appreciate the conscious ideas and intentions of a subscription service, I am so happy I came across GroBikes!
Thank you so much."